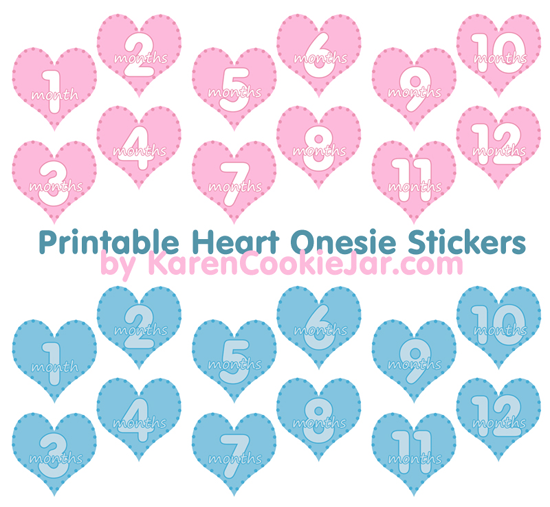 I've just created a new set… or make that two new sets of free printable onesie stickers for babies. This time the set is made in a heart shape (due to my recent heart clipart obsession) and there is a pink and blue version for baby boys & girls, but don't feel limited by the color demanded by society to represent the gender of your infant! =) Each set includes a full 12 months of stickers. Just print onto label paper and cut them out along the edge of the heart and stick to the front of your babies clothes over their heart, aww…
Pink Heart Stickers: Months 1-4 | Months 5-8 | Months 9-12
Blue Heart Stickers: Months 1-4 | Months 5-8 | Months 9-12
Hearts will print about 4 inches wide on standard page.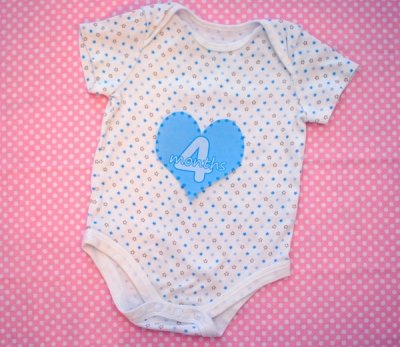 I would recommend printing all your stickers at once, but don't forget where you put them! Maybe keep them with babies clothes so you remember to take a photo of your little one every month from the date of their birth. If you are constantly getting ask, "how old is that cutey?" you could also wear the stickers out and it will be a cute way for people to tell how old your child is. Or create a mirror image of the sticker and print onto iron-on transfer paper and iron right onto the front of babies onesie.
You can print your stickers on white label paper, but if you plan to have your baby wear a colored onesie and don't want the sticker edge to be seen you could also use a transparent sticker paper.
I recommend printing with a color laser printer so that the ink is water resistant! My free stickers are created at 300 dpi so they will print clear and sharp and stand out on babies tummy.