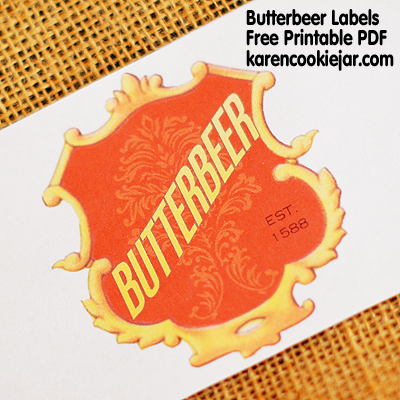 I've just created these free printable Harry Potter inspired Butterbeer labels that I'd love to share. Halloween feels right around the corner as the summer is drawing to a close. I decided to design these fun Harry Potter inspired labels that can be used for a theme party or Halloween party to dress up either root beer, birch beer or regular old beer. Butter beer has actually been around for centuries in one form or another according to the Internet since 1588, there are actually some recipes online to make it yourself, but I'd rather stick to regular soda or drinks that you know taste good. You can print out these labels onto regular printer paper and then cut them out to wrap around your bottle of choice.
Free printable harry potter style labels
You can just tape or glue the ends in the back of your bottle, I made them extra wide so they can fit around a variety of sizes of bottles. I didn't have any small bottles in the house so I had to test mine on a wine bottle for the picture! If you use these for a Harry Potter party please comment below and I'd love to see how they come out!