This page features information and pictures of the various bear cookie jars that I have in my collection. I have many different styles of bears including a classic Winnie the Pooh, a Coca Cola polar bear, teddy bears, vintage bears and black bears. Who knew there were so many types of bears until one sees them all together. I remember when I was in Alaska and we were told what to do if we see a bear in the wilderness, but I still can't remember which were the more dangerous types, black or brown. I'd rather not come face to face with any color bear in the wild though, to be honest even though they seem so cute.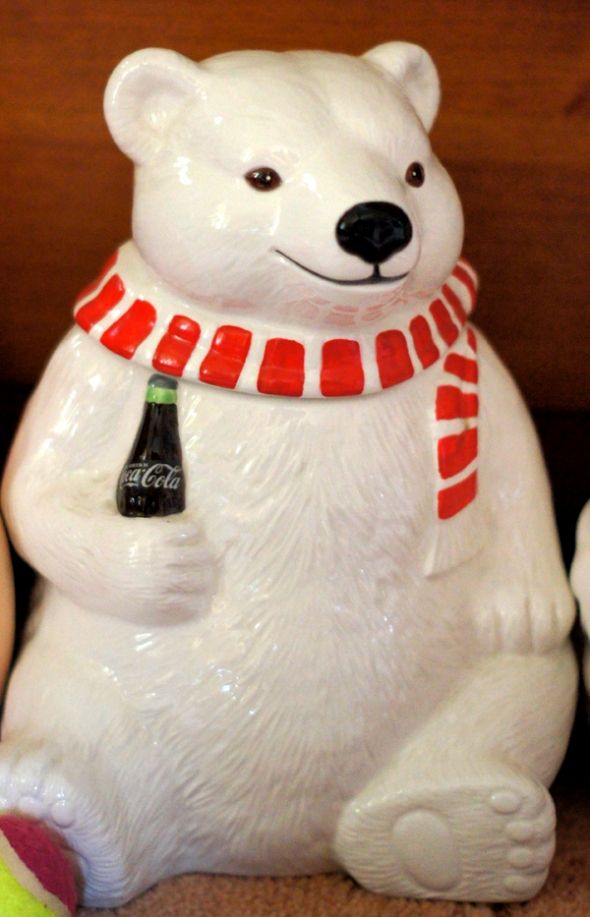 Coke soda products has used polar bears in it's ads and they became the rage in 1993 during a series of CGI commercials that started off during the super bowl. This created a marketing sensation that produced plus toys, t-shirts and other collectibles featuring the bears, including cookie jars! This happy smiling polar bear is wearing his red and white striped scarf and holding a refreshing bottle of coca cola. This jar is part of the authorized collection made in 1994 by The Coca-Cola Company.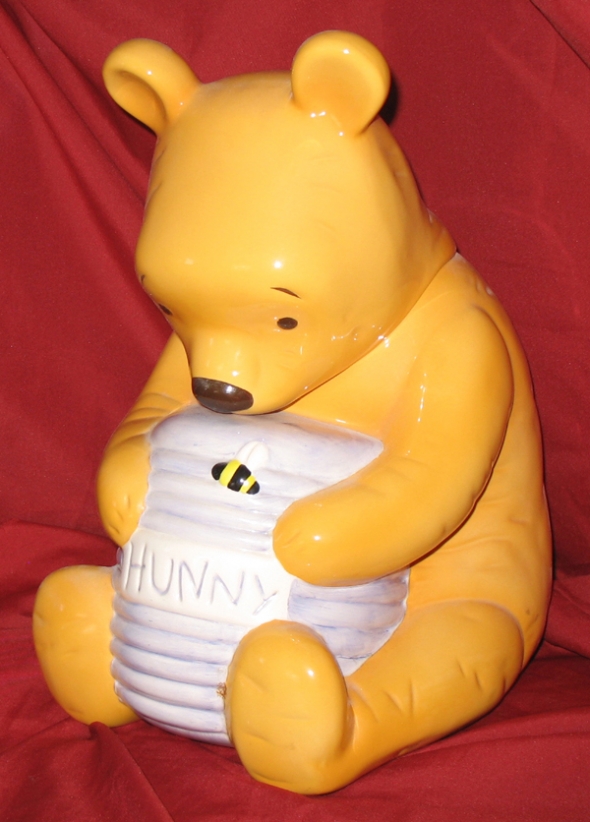 Classic Winnie the Pooh with his "hunny" bee hive cookie jar. Pooh is looking for a sweet snack and hopes the bees will be generous with their honey today. This jar's soft yellow color goes well in my living room and I used to have him displayed on the top of our tv-stand, until we got our cat, Smokey who likes to climb up there, then I moved him to a safer spot. This is one of my biggest jars at about a full 12 inches high and I prefer the classic pooh bear that I grew up with to the newer, cuter styled bear wearing the orange shirt. He is a Disney cookie jar made by Treasure Craft Pfaltzgraff Classic Pooh Cookie Jar with Hunny Pot and Bee details.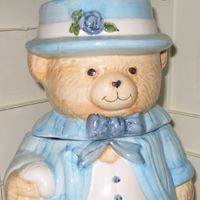 This properly fancy bear looks like he's ready to go over to his grandma's house for tea and scones. I got this bear on 10-19-93 at an outgrown shop in the area. He is all dressed to the nines in a blue suit, he has a hat with flower detail, bow tie, blue coat with tails and vest, carrying a walking cane. I like his sharp outfit, he must be on his way somewhere nice for a night on the town. His nose is also heart shaped. I have also seen a pink version of the same jar, but I don't have that cookie jar. He measures about 10.5 inches tall and 5.5 wide at largest point. There are no manufacturer details, it just says made in china.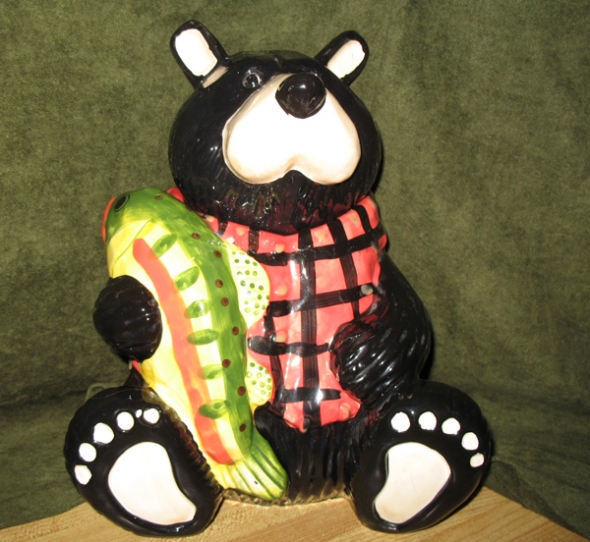 This black bear just caught a big one! Bear is holding a large fish – maybe a bass – the fish doesn't look too happy. He would go well in a cabin decor. I love the red and black checkered vest that he is wearing, he looks like a proper woodsman or hunter. My daughter gave me this ceramic cookie jar as a gift. She purchase it brand new and I don't use any of my jars to hold cookies. I try to keep all the jars safe and put a little peice of tape on the lids so they don't fall off or break. I've had few chips or breaks on any of my jars.
Manufacturer details: Made in China