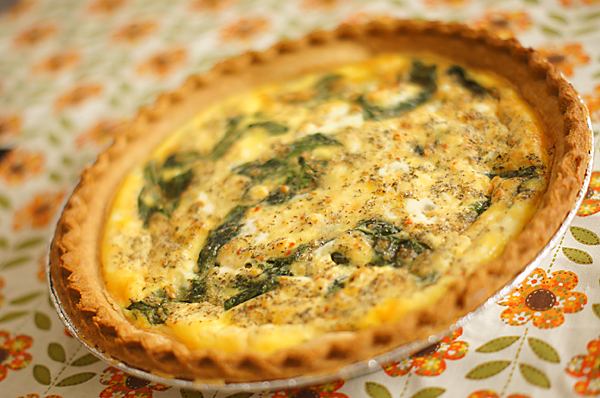 I've been eating a spinach and feta quiche from a local restaurant often, so I figured I would try making one at home. I came up with my own recipe to try. I used the following:
Spinach and Feta Quiche Recipe
4 eggs
1 cup milk
1 tbs Flour
3/4 cup Athenos Tomato & Basil flavored Feta Cheese
Handful of fresh spinach
1/2 tbs of butter
Salt and Pepper
9 inch frozen pie crust
Beat eggs, milk and flour in a large bowel and season with salt and pepper. I sauteed the spinach in the butter just long enough for it to wilt. Then in the 9 inch frozen pie crust I placed the feta cheese on the bottom and the spinach and any butter from the frying pan. Pour the egg mixture over top and place on a cookie sheet. Bake in a preheated 375 degree oven for 50 minutes or until center is firm. I used the tomato basil flavored feta cheese so I didn't have to add additional seasoning, but if you just have plain feta, you could also season with dried basil or parsley. Fresh tomatoes would also be a great addition.
Quiche is a flexible food that can go well for lunch, brunch or breakfast. I eat quiche often, I started with a hash brown crusted quiche that I made all the time back in college using frozen hash brown patties. You can add just about any fillings. From bacon or ham, all kinds of cheeses. Try it sometime with your favorites.