Hanging pom poms made out of tissue paper are pretty decorations for a party, wedding, or use for home decor. The pompoms can be made out of different colors of tissue paper or other materials such as cupcake wrappers or fabric. This page will show you a step by step tutorial and the different materials you can to make hanging Pom Poms. It is a trial and error process, which means you should keep trying until you get the look that you want. The most common material used is tissue paper, but I've made pom pom balls out of many things including cupcake wrappers, fabric, tulle, yarn and even flowers can be used to create these unique and pretty decorative pieces. You don't have to be having a special event to hang these in your home, I've seen many people decorate their bedrooms or children's room with a bunch of pretty pom poms hanging from the ceiling in a corner or over the bed.
DIY Tutorial for tissue paper pom poms with photos:

You will want to use a stack of between 8-10 standard sized sheets of tissue on top of one another. I got mine from the dollar store and it was sized 20×20, but I've also seen 20×30 which will also work fine. Measure along the longest side 1 and ½ inch wide marks to make your accordion fold. You will continue to repeat this step until all of the tissue paper has been folded into an accordion. You can do this using a bone folder to make nice crisp folds, or on a scoring table.
Now that you have the accordion folds completed you will need to find your center and take a piece of floral wire (or you can just use a plastic twist tie) and fold it in half. You will than will need to slip it over to the center of the folded tissue paper and then twist to tighten it. Next, you will need to take a pair of scissors and cut the ends of the tissue paper to give it more of a flower shape. You can choose to cut them into points, rounded edges or leave them square for different looks. Finally, fan out the tissue paper so that you have two sections on either side and then gently separate the layers of the tissue paper. This should make it look round like a pom pom.
Tissue Paper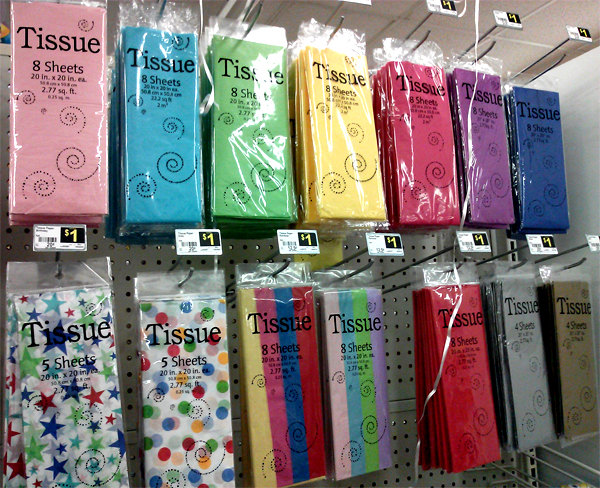 You can find a variety of colors of tissue paper for use in your decorations. This is what they had at a local dollar store. Just be aware that what is in each package is only enough to make one large sized pom pom.  You could mix different colors of paper or I really liked the polka dot and star patterns that they had. There are also multi-color packs, I haven't tried using different colors within a single pom-pom, but that might look cool too.
When trying to learn how to make a pom pom out of tissue paper you are going to want to ensure that you have enough materials before you begin. There is nothing worse than starting a project and not being able to finish it due to lack of materials. The first time I tried to make a pom pom (photo below) I only had five sheets of tissue paper and it did not come out full enough. I think they also come out better the smaller and squarer the tissue paper is to begin with.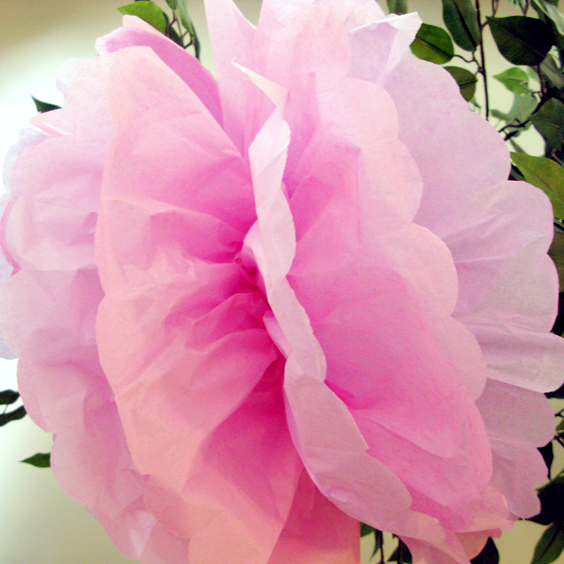 Making Pom Poms out of Fabric, Tulle, Cupcake Wrappers or Flowers
Use your imagination and follow the same steps

You can recreate these tissue paper pom poms to make the room you are decorating look beautiful for parties or just to make a room look nice for everyday use. You can repeat the steps above to make pom poms out of different materials like tulle, fabric, or flowers. When using these other materials you might need to use a Styrofoam ball as a base to glue the materials onto. When making the tulle pom pom, we used about 20 layers of tulle cut into squares so the ball was nice and full. I also pulled each section in opposite directions when poofing it to give it more volume. You can always play around with the size and shape of the materials that you use to ensure that the pom poms come together like you want it to. Sometimes fabric is a little heavier than tissue paper making it a little more flimsy. Smaller squares of fabric might work better than bigger squares.