My Cute Teddy Bear Plush Animal Rug
Once upon a time I had this cute and cuddly stuffed bear animal rug. He was about 3 feet long and he rested flat on the ground, you could sit on his back or lay on him and he provided a soft and cuddly spot for relaxing. My Bear once lived at the top of the steps at the entrance to my bedroom to guard and protect me from drafts as well as unwelcome guests. I loved him so much, he was a teddy bear with a different form and function. He moved with me to another town, but then we became separated forever after I had to move back home and he remained in the other town. I wish I still had him with me today. These photos included in this lens are all that I have left of the memories of My Bear rug.
If you love plush animals as much as real animals, a plush animal rug will be a cute and furry addition to your home. I think I am too old for plush toys at this point, my cat Smokey has a few.
Please note My Bear was a faux fur and is not made of real animal fur, similar to Spirit Hoods. I think animals should be the only ones who get to wear animal skin and fur.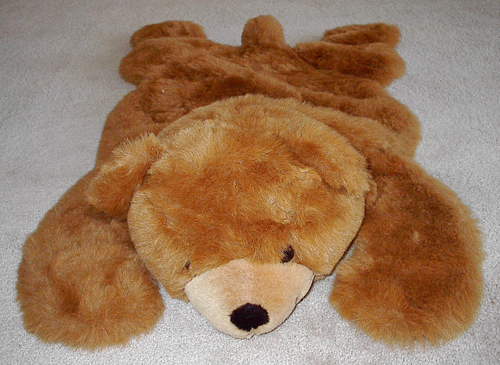 Missing my Bear Rug – I'm a "sad panda"
I wrote this poem "My Bear" about my sadness over losing my bear rug:
My Bear.
I declare.
It's such a sad affair.
He's all alone and solitaire.
In need of tender loving care.
With a tear filled glare.
I sit and stare.
Thinking how unfair.
Nothing will ever repair.
This feeling of despair.
Even if I were a millionaire
And had a billion rugs made of camel's hair.
I'd still miss My Bear.
It helps to express your feelings using poetry. It feels like you are not just writing about a sad event, but creating a story using minimal words and feelings. #WorldPoetryDay