Are you searching for an easy way to calculate the total of your payroll time cards? Converting Minutes to Decimals is easy. Learn How To Convert Minutes to Decimal in a simple step by step tutorial. This site also has a printable chart that you can use to do the following:
Calculate time card totals for hours worked from your time card or time clock punches.
Chart rounds to two decimal places for consistent calculations.
A convenient tool for payroll administrators.
Military time conversion also included.
Reduce the number of calculations in order to total your time sheets.
Time Card Calculation
Payroll administration demands accuracy in time card calculations so that you are paying people correctly. You should always review and verify the addition of employee timecards. In order to correctly total your time card you need to add the minutes in decimal format. If you do not convert to decimal you will not get the correct totals. You cannot subtract times with the minutes as is, for instance if you work until 4:30 and try to do your math using 4.3 on your calculator, you will be shorted .20 minutes because 4 hours 30 minutes converts to 4.5 in decimal.
Minutes to Decimals Chart can be downloaded to the right in Adobe PDF, Microsoft Excel, or as a jpg image file and it is easy to print and post on your office wall. I also recommend using an adding machine when calculating payroll totals. As a payroll administrator, I've seen all kinds of errors in calculations on employee time sheets and in order to maintain accuracy, I have to check over all the timecard totals that I am processing for the week. I created this chart when I first started my position and I felt like it was a good resource to share.
Download the chart in the following formats:
How to Convert Minutes to Decimal
The quickest way of converting minutes to decimals is to divide the number of minutes by the number 60, which is the total number of minutes in an hour. Our system of time is based on the clock which has a total of sixty minutes in an hour, the decimal equivalents for minutes are the portion of one hour that the minutes represent.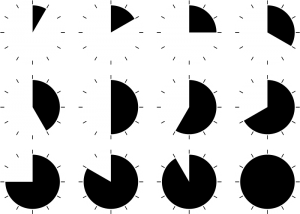 Imagine the face of the clock as a pie. When the hour hand is fixed at 12:00 o'clock and the minute hand of the clock moves to the corresponding minutes, it divides the clock into segments. Decimal equivalents for minutes are just the portion of the pie segment contained in those minutes. Think of the expressions we use "quarter of an hour" "half hour" and "three quarters of an hour" those give you clues to the decimals. Quarter of an hour is 1/4 which in decimal is .25, the same with 1/2 hour, which is .50 and three quarters of an hour or .75 – Easy right!
Conversion Tips:
Do you remember how to convert fractions to decimal? You are doing the same thing except that you will use the number of minutes as the numerator of the fraction and 60 as the denominator.
You can download one of the charts I have created which will tell you the decimal equivalents so you don't have to do the math.
If your time is rounded to the quarter hour this means the only decimals you need to know are 15 minutes = .25, 30 minutes = .50 and 45 minutes = .75
You will need to decide on rounding rules, are you going to round up or down or not at all for the decimals with repeating digits?
Timecards are often reported to the nearest quarter hour, so if you work until 11:55 this would get rounded up to 12:00