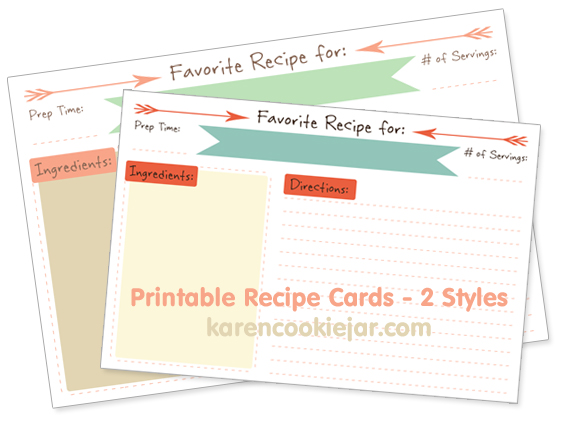 Two color styles of free Printable Recipe Cards with spots for ingredients, prep time, directions, and number of servings. These cards will be 4×6 inches when printed. I have them formatted to print out 2 per page on letter size paper or a PDF file that is a single card only so you can download whatever is easiest for you. These are easy to print right onto 4×6 blank index cards.The title at the top reads "favorite recipe for:" and you can put the name of the dish inside the colorful banner area so it stands out.
Recipe Card Print Files:
Peach Green & Brown: Letter Size Paper (2 cards per sheet) | 4×6 single card
Orange Blue & Cream: Letter Size Paper (2 cards per sheet) | 4×6 single card
Free printable recipe cards perfect for Do it Yourself cooks who want to create their own custom recipe cards for their kitchen. Share your personal recipes with friends and family. Print and create a set of recipe cards to give as gifts for a bridal shower or to friends and family.
I still remember my mom's old hand written notebook that contained all her favorite recipes. It had magazine page cut outs, newspaper clippings and a mix of hand written index cards and some that were typed out with an old fashion typewriter. I used to keep the random recipes I saved in a kitchen drawer, but as the drawer got fuller and fuller it was hard to find what I was looking for.
Print cards onto blank index cards
If you have a home printer that accepts 4×6 photo paper, you can also feed blank index cards through the printer to create your own custom recipe cards.
I bought this huge stack of 500 blank index cards at staples for around $5.00 and then I set my printer to 4×6 size and the cards come out just like printing a photo.
You may have to change your margins a bit if you wish to print without a white border around the edge of the cards.
You can also open a file in a document editor and set the page size to 4×6 to type out your info and print onto this size paper.
View two additional colors at: More printable recipe cards