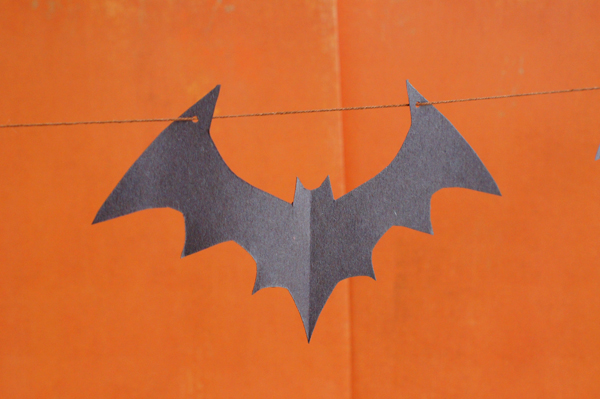 I've created this free printable Halloween bat template to use to make your own hanging garland. Print out the template onto cardstock, cut out the bat shape and use it as your guide to make the bat shape out of any kind of paper to quickly and easily cut out bats and string to create hanging party garland.
Instructions
1. Cut out the bat template above
2. Fold a piece of paper in half – black construction paper works well or you can use decorative scrapbook paper.
3. Place bat template along folded edge as shown
3. Trace along edge of the bat shape
4. Cut out along your line
5. Unfold and you will have a both sides of your bat cutout.
6. Punch out holes for eyes or glue on embellishments such as glitter, stick on gems or red or orange paper cut into shape as shown.
7. Punch small holes in the top corner of each wing and string to hang
Download the template with instructions
*Bats will be about 5 inches wide when completed.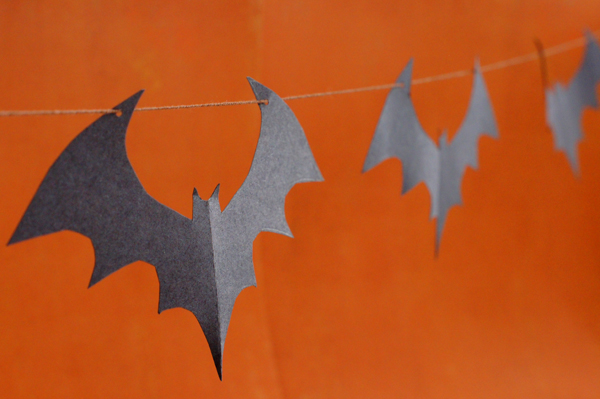 You can use any color paper including patterned scrapbook paper. The bat in the photo is made using inexpensive construction paper that I got in a pad at the dollar store.