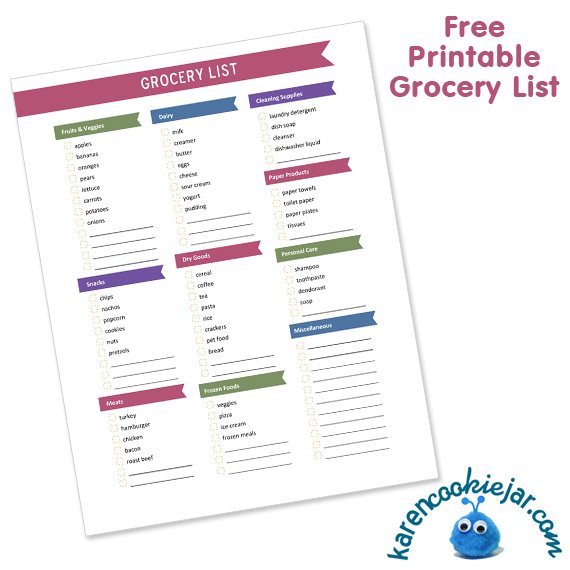 I've created this free printable grocery list to use when you go food shopping for the week. You can print it out and hang a copy on the refrigerator and as you run out of items, simply check them off on the list. The list contains basic food items, but has spots where you can fill in the blanks. Made with a banner theme, it is fitted to one page and has three columns full or groceries organized by type of items.
There categories include: Fruits & Veggies, Snacks, Meats, Dairy, Dry Goods, Frozen Foods, Cleaning Supplies, Paper Products, Personal Care and a large Miscellaneous section. I just created this checklist today, so I want to use it for a week or two and see if I missed anything major. I might updated it or create a different color scheme then in the future after testing it out. I remember my Aunt had a list similar to this and if you put a pen or pencil right next to it and display it where everyone in the family can see it, it may help with forgetting to pick up items at the store.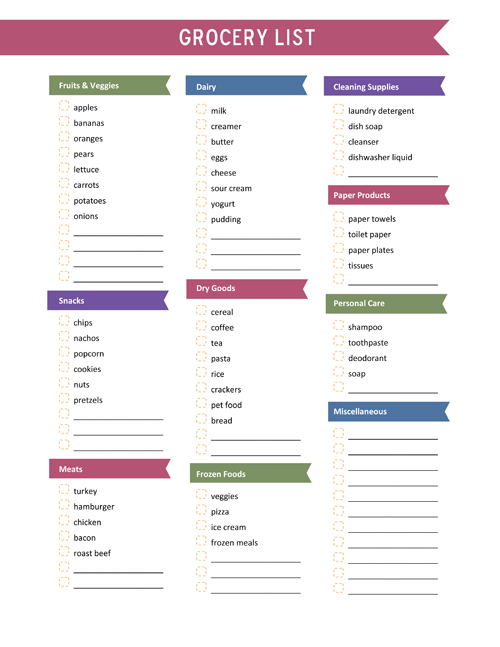 If you want to share this post  you can do so, but please do not redistribute the PDF printable grocery list on your website or blog – Thanks!