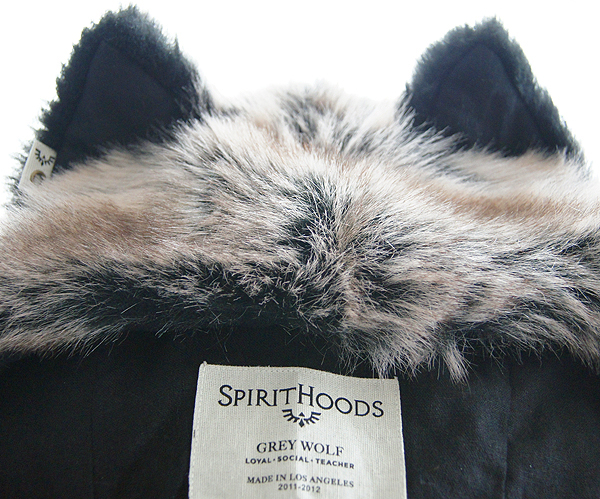 Spirithoods are the faux fur trendy animal hoods with paws attached. The furry animal hood represents different animal wildlife spirits. The Spirit Hoods support all animals all over the world and they make a fashion statement using fake fur so it is animal friendly.
What are those furry animal hats with attached mittens called? SpiritHoods!
SpiritHoods come from four designers who developed the hoods as a way of staying connected and being guided by our totem animal spirit guides. Each animal hoodie has a palm print on the back of the paws and is made of faux fur or faux leather, and the lining is satin polyester or flannel. It's a hat with paws attached as mittens. Each spirithood is unique based on a certain animals coloring. The minute you see your animal you will want one. You want to choose the animal that fits your spirit and personality traits. The fake fur used is high quality and has a gradation so the colors look rich and realistic.
All of the animal spirits are super cute, cuddly and warm! They have even appeared on Shark Tank in Season 5 Episode 11
Which animal spirit are you?
Choose your totem animal guide spirit to match your personality. These really warm adorable hats come in a variety of animal creatures:
Night Owl
Grizzle Bear
Rabbit
Night Hawk
Husky
Black Wolf
Red Wolf
Wolf
Fire Wolf
Leopard
Snow Leopard
Lion
Panda
Brown Bear
Polar Bear
Grey & Black Wolf-Navajo
Forest Fox
Tiger
Silver Coyote
Mystic Wolf
Jack Rabbit
Brown Rabbit
They have even had releases of character themed hoods including the Muppets for kids and My Little Pony for Women.
How to Identify Genuine SpiritHoods
Look for the tribal bird logo, location and date of manufacture.
There are many copy cat animal hoods with paws on the market. To identify genuine SpiritHoods you want to look for several things. A tag in the left ear that has the logo and a round grommet where you can attach feather accessories. The tag on the inside of the hood is clearly labeled "Spirithoods" with the logo, Made in Los Angeles, year and the three traits of your particular animal spirit's personality. There is one zipper pockets for stashing your wallet or cash about half way down the length of the right "arms" and finally on the paw prints there is also the logo in the center.