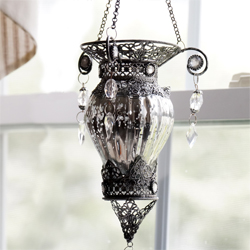 Add Interest to a Room with a Moroccan Lantern
Exotic Moroccan lanterns can add mystery and romance to your home decor. This page will show you options for Moroccan candle lanterns, lamps, hanging lights, and Moroccan candle holders. You no longer have to travel all the way to a Marrakesh Souk in Morocco to have one of these intricately decorative candle lanterns in your home. These metal lanterns are embedded with magic in their detailed patterns and design. When lit from the inside, your room will be filled with interesting shadows cast on the walls from the hole patterns in the sides of the lanterns. They look great displayed on a table or bookshelf or hanging from the ceiling. You can buy many different shapes, sizes and colors of the lanterns, I want to share some of my favorite designs. Whether you have a Moroccan theme in your home or not, these lanterns can be used interchangeably in various decor.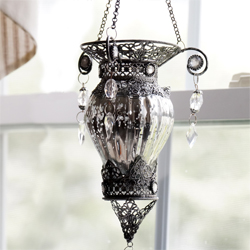 Moroccan Lanterns have styled metalwork inspired by the beautiful hand-wrought lamps of a Moroccan marketplace. At a northern African marketplace, you will see a mix of textiles, shapes, patterns and colors. There are lots of reds, golds, yellows, all rich earthy colors. Even if you don't want to dress a room full of Moroccan decor, adding a hanging lantern can bring a global perspective to your style and become a stand out piece.
Moroccan decorating to inspire your home decor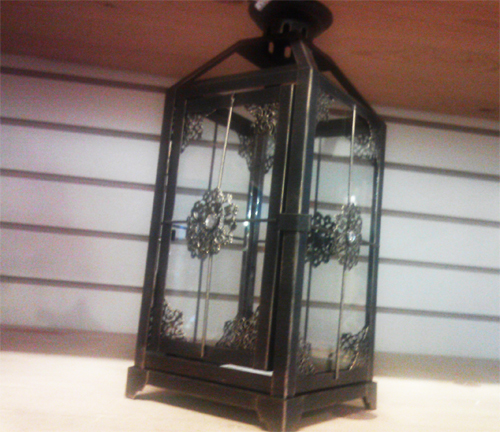 A candle lantern Moroccan inspired decor is very inexpensive and relatively easy to pull together, but looks luxurious and exotic. Morocco is an Arabic nation in Northern Africa. If you shop at Pier 1 you have probably seen other Moroccan inspired design. You will see a combination of Moorish and European influences in Moroccan architecture and style. This fusion of Arabic style adds a note of worldly sophistication to a room. The best part is, you don't have to theme an entire room – a few simple Moroccan Lanterns will do the trick. Moroccan-style home decorating incorporates iron work and rich jewel-toned shades of color.
You can transform your space into a kasbah by using Moroccan Lamps as accessories. Other cheap accessories you can add are decorative pillows, a pouf footstool, Persian inspired rugs or a magic genie lantern. There are 100's of styles of hanging lights, pendant lamps, glass lanterns, for many different lighting options. Moroccan stars are a classic shape in Moorish design.
You can use any simple chain to hang your lantern or you can use a colored felt or silk ribbon instead of chain to hang your lantern and add a bit of color. Just make sure whatever you use can support the weight of the lantern and any candle inside.
I was recently in Pier 1 Imports this week and they had a good selection of styles of candle lanterns. My favorite was the red glass star shaped lantern that is hanging in the photo above. The best thing about their selection is that the lanterns are made of glass, not plastic. Most are priced between $10 – $25 dollars. If you have a Pier One store near you and are interested in checking out Moroccan Lanterns in real life, I would head there now!
Candle Moroccan Style Lanterns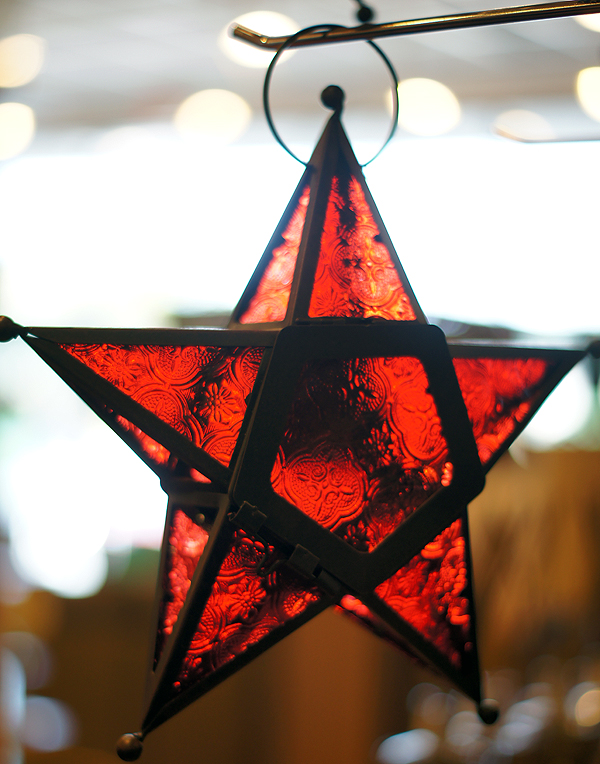 These simple affordable candle lanterns
Gorgeous candle holder style lanterns. The glass in these is absolutely beautiful, I may have to add a Moroccan touch to every room in my house, there are so many unique lanterns. You can buy multiples of the same lantern or mix and match them. You can hang them from the wall with a bracket or ceiling or just decorate a table top.
Moroccan Lantern TV Sightings
Many TV Shows Use Hanging Lanterns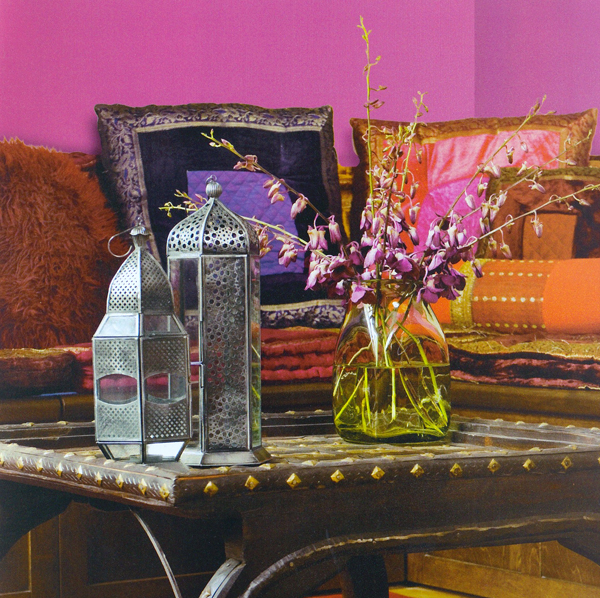 moroccan decor lights America's Next Top Model Moroccan Judging Room If you are watching cycle 16 of America's Next Top Model, the ANTM girls international destination is Morocco. You can see Moroccan inspired design and authentic interior decor on the show. The new panel judging room is tripped out with Moroccan hanging lights and lanterns. You can emulate the Arabian feel of the models new home in Marrakesh, Morocco in your own home with these inexpensive Moroccan hanging candle lanterns. The ANTM Moroccan Judging Room is intimate and romantic. With a mix of rich purples and golds and Moroccan style.
If you look below, the eBay listings are for Moroccan lights that can be wired with electric and replace an existing light fixture in your home. Having a Moroccan themed bedroom can be a luxurious and mysterious look. Check out an episode of ANTM this season if you would like to see genuine Moroccan decor. Most of the lanterns are imported from Egypt and northern Africa.
Other Moroccan Lantern Sightings on TV: The Bachelor / Bachelorette house is outfitted with many hanging Moroccan and Arabian lanterns and candle holders. I noticed this when I was watching the first season of the Bachelorette with Ashley. I assume they use these in order to add a mysterious, romantic feeling to the house.
Million Dollar Decorators The Bravo tv ritzy decorating show set in L.A. and featuring celebrity decorators had an episode featuring Moroccan hanging lanterns. The decorator used them as an inexpensive way to add mystery to his design.
It's easy to hang your Moroccan lantern from the ceiling. Most of the lanterns you will see are meant to house candles, so you want to pick a spot away from curtains or anything that could pose a fire risk. Things you will need to hang your moroccan lantern: Step Ladder, Drill, Measuring Tape, Chain, Decorative Toggle Bolt Ceiling Hook or plain screw ceiling hook and screw anchor.
How to Hang a Moroccan Lantern from the Ceiling:
Step 1 – Pick a spot to hang the lantern where people will not hit their heads when walking by. Choosing a spot near a corner or close to a wall will create pattern reflections when the lantern is lit.
Step 2 – Measure how far from the ceiling you would like the lantern to hang. Don't forget to take into account the height of the lantern in your calculation.
Step 3 – Install a decorative toggle bolt hook, when you purchase this kit, it should come with the hook, a spring loaded type anchor, a double sided threaded screw, and a single sided screw. Make sure it will support the weight of your lantern (these lanterns are usually fairly light and you do not need to worry, 10-20lbs should be more then enough). If you can locate a ceiling beam, you can install the screw into this for added support.
Step 4 – Drill a hole the same size as the circumference of your screw, attach the long double threaded screw to the spring loaded screw anchor at the top with the folded side of the anchor pointing down. Screw your decorative hook onto the other side enough to hold everything in place.
Step 5 – Push the anchor into your hole into the ceiling until you hear the spring loaded anchor click into place, you want the sides to expand so they are pointing out in either direction.
Step 6 – Tighten your hook until it is up against the ceiling, do not over tighten. The screw anchor holds the weight of the lantern, the decorative hook just needs to be firmly screwed on.
Step 7 – Attach your chain and hang your Moroccan lantern!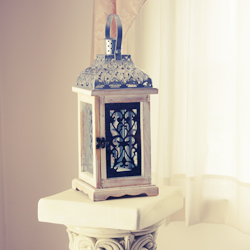 This is one of the many lanterns that I got at Pier One and use in my home. I had this decorative pedestal in a corner that I didn't know what to put on, and I decided it was a nice place to display a Moroccan style candle holder.
I love the cut out pattern and white distressed wood borders.
So pretty.
Moroccan Lanterns direct from Egypt
Here are some unique, original or handmade Moroccan Lanterns auctions on eBay. You can buy wholesale Moroccan lanterns on eBay if you want to use them as wedding center pieces or as gifts. Find cheap Moroccan hanging candle holders auctions. Moroccan Pendant Chandelier Lamp Ceiling Light Fixture can be used as light fixtures in your home.