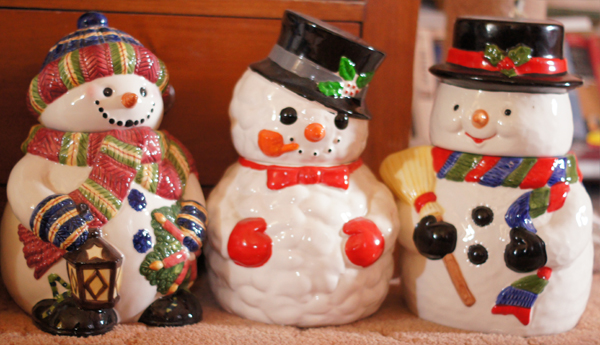 My collection of snowman cookie jars are featured on this page and I share my stories and knowledge about cookie jar collecting for many years. I know at least two other people who collect snowmen – I didn't realize how just how many snowmen cookie jars I had acquired until I got them out to decorate this winter. Snow men are so cute because they have so many accessories, hats, mittens, scarves, carrot noses – girls love accessories on a man. Look at how different all of the jars shown in the photo to the left look and they are all just snowmen!
I think this jar is the classic snowman, no frills, just the regular top hat, corn cob pile, coal for eyes and cute red bow tie and mittens as winter decorations. I like the cotton ball look that the body has.
I'd say this reminds me the most of frosty the snowman out of all the jars I own.
According to a collector's guide that I own this jar is worth $58! However, I usually don't trust the prices in these type of guidebooks. The best way for determining value of collectibles is to search for the same item on eBay and see what it typically sells for by browsing the completed item results. Many of the snowman jars I saw were selling for a few dollars and I couldn't find this exact jar to determine the value.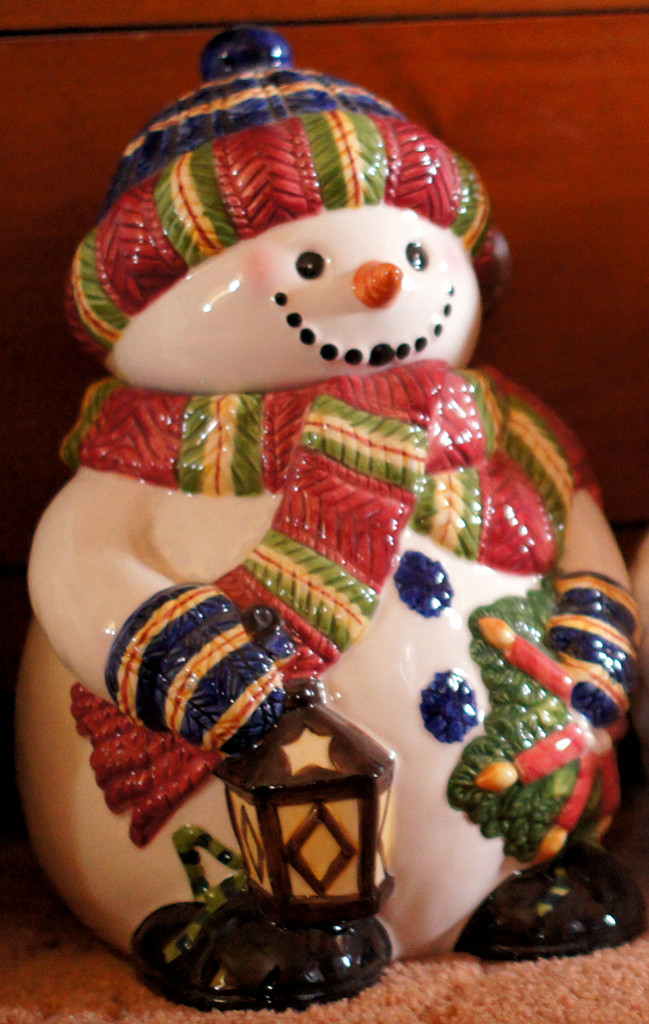 I love this snow man's winter accessories including, cap, mittens, scarf and coat. Cookie jars make fabulous Christmas gifts whether you are buying for a cookie jar collector or not. Every home is incomplete without a jar or two as decoration. This happy snowman brings a smile to my face with his warm personality.
This is one of my favorite snowman cookie jars. He is all bundled up for winter in a red Santa Clause inspired jacket on with blue and aqua checked scarf (I wish I had his scarf for real!) He has a cute carrot nose. My favorite part is that his mittens and cap match, both done in green and lime stripes. So Cute! He is holding a Noel Sign and Merry Christmas is written down on the bottom under his coat and
He has a big smile on his face and as I take the picture, I notice for the first time he is holding a candy cane. He also kinda looks like he is giving the "thumbs up" with this hand. He's probably going to eat this later after he is done having his portrait taken.
Here is another cute snowman bundled up for the cold winter. It must get very cold being outside during those long winter nights. I love how his knit cap has two different color combinations that they then vary between his gloves and scarf. He is holding a cute lantern to light the way and candles with greens in his other hand. This is also one of the rare snowman cookie jars that have feet instead of the typical one or two snowball bodies.